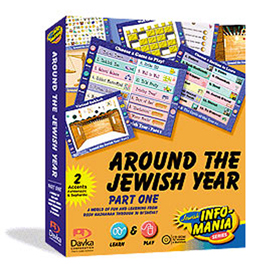 Around The Jewish Year Part 1 - CD ROM



Publisher: Davka Corporation



A world of fun and learning from Rosh HaShanah through Tu B'Shevat

Orthodox
Product Description
Packed with enjoyment and excitement, Around the Jewish Year, Part 1 presents the months and holidays of the Jewish year, from Tishrei through Shevat with twelve learning sections, along with ten challenging and exciting games related to the observances of each holiday.
Learn all about all the month in a narrated presentation filled with superb graphics, colorful animation and stirring music!
Ten great holiday games for year-round fun!
Three quizzes on all material studied in the program!
Print full-color holiday graphics and black-and-white pictures - great for decorations and coloring!
Around the Jewish Year, Part 1 includes the following great games:
Tishrei Towers - Make order of all the Tishrei holidays. It's harder than it looks!
Tashlich Toss - Throw your sins to the fish. The more fish you hit, the more points you get, but watch out for the mines!
Bainoni Balance - Even out your sins and good deeds before Yom Kippur!
Sukkot Mastermind - Guess what Sukkot symbol comes next!Virtual Sukkah - Building this Sukkah doesn't require nails, screws, or a hammer - just your imagination!Name that Niggun - Guess the Simchat Torah tunes!Chanu'Connect - Connect the dots to uncover the secret Chanukah object!Strike Oil! - Find the one remaining whole jar of oil among the imitations!Wall to Wall - Can anyone rebuild the wall of Jerusalem? You can!Tu'bi Fruity - Catch the seven species before they hit the ground in this fast paced action game!

Ages 8-13
System Requirements: PC with Windows 98/ME/2000/XP, 256MB RAM minimum, CD-ROM drive, sound card, Pentium 166 or better or Mac with 256 MB RAM, CD-ROM drive, System 9 or OS X.