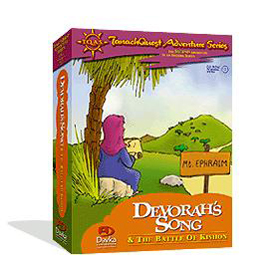 Devorah's Song and the Battle of Kishon



Publisher: Davka Corporation



See large image for sample screenshot

Orthodox
Product Description
Oppressed by the cruel Canaanites, the Jews turn to Devorah the Prophetess for her wise counsel. They miraculously defeat General Sisera and his legions - but can they capture Sisera before he has a chance to regroup?
Devorah's Song and the Battle of Kishon features a rich cast of Biblical characters, from Devorah and Barak to Sisera and Yael. Puzzles abound, but if you carefully read the Biblical story, you'll find a way to win. "Devorah's Song and the Battle of Kishon" is a challenging adventure filled with exquisite graphics, amazing animation, and endless enjoyment.
Game Highlights:
Use strategy and maps to plan your course of action
Superb full-screen graphics and animation
Challenging puzzles and clues
Explore the ancient world of Biblical Israel
Easy to use point and click interface
The Jerusalem Post gave 4 stars out of 5 to Devorah's Song!
---
System Requirements:
PC with Windows 98/ME/2000/XP, 128MB RAM minimum, CD-ROM drive, sound card or
Macintosh with 128 MB RAM, CD-ROM Drive, System 9 or OS X