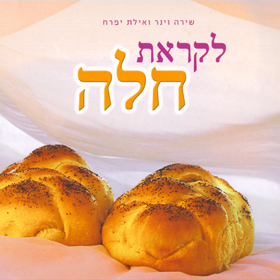 Likrat Challah



Author: Shira Veiner, Ayelet Yifrach
Publisher: Feldheim Publishers, Israel

See large image for sample page.
Hebrew only

Orthodox
Product Description

An amazing book about Challah!
Likrat Challah is not just a cookbook, it is a virtual encyclopedia of Challah!

Would you like to know the Mitzva, Halacha and traditions of baking and seperating challah from dough? Then Likrat Challah is the book for you!

This beautifully illustrated book includes five chapters titled:
Beracha Ba'isa: This chapter deals with the biblical commandment of seperating challah from dough; the blessings that this brings on one's house; and the ancient tradition which makes this uniquely a woman's mitzva.
Seder Hafrashat Challah: This chapter includes the practical laws of seperating challah, when it is required, how to do it, different prayers and traditions involved.
Melechet Ha'afiah: Baking the Challah - weights and measurements, various flours that can be used, tips for easier baking.
Metchonim: 24 different Challah recipes! From the traditional to the exotic, whole wheat, Pita, onion rolls, sweet challah, Rosemary flavored & bagels - a whole world of flavors!
Umnat Hakliah: Braiding the Challah. With full pictures and drawings for braiding three, four and six braids. Also includes drawings and pictures of interesting and innovative challahs, such as Star of David, Hamsa, and others.
So if you know anyone that enjoys baking challah, anyone that likes to experiment with different recipes, or anyone that would like to know about this wonderful mitzvah, this is the book for them!
---
107 pages, Hebrew only.