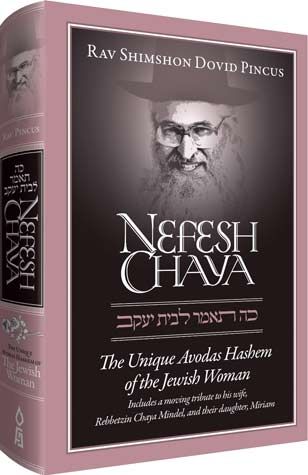 Nefesh Chaya



Author: Rabbi Shimshon Dovid Pincus z"l
Publisher: Feldheim Publishers



The Unique Avodas Hashem Of The Jewish Woman

Product Description
The enthusiasm in his voice, the wisdom of his words, the soothing, practical quality of his presentation--all these and more were the hallmark of Rav Shimshon Dovid Pincus, Rav of Ofakim, and an internationally acclaimed speaker. In this volume, his masterfully presented outlook on the avodas Hashem of the Jewish woman comes alive; every word glistens with truth and sincerity. This book is a rare treat, a combination of profound hashkafah, gentle humor, and illuminating insight that truly conveys to the Jewish woman--and man--her unique role in the service of her Creator. With a moving tribute to Rebbetzin Chaya Mindel Pincus and their daughter, Miriam, who, together with the Rav, were tragically killed on the 12th of Nisan, 5761.