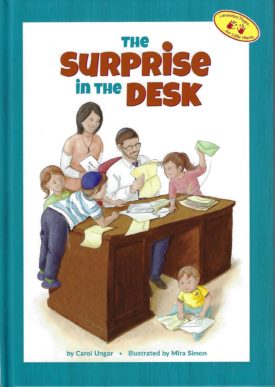 The Surprise in the Desk



Author: Carol Ungar In
Publisher: Hachai Publishing



Product Description
Rabbi Noach Muroff needed a comfortable desk where he could study Torah. When he bought a used desk and took it home, he discovered a surprise hidden inside… something that belonged to the previous owner. Rabbi Muroff knew what he must do next… Do you? This contemporary story, taken straight from real life events, highlights the great mitzvah of being M'kadesh Shem Shamayim, sanctifying Hashem's name in the most public way. Children will enjoy the suspense of the tale, the adorable illustrations, and the lovely message. Great for encouraging honest behavior and the joy that comes from doing what is right.