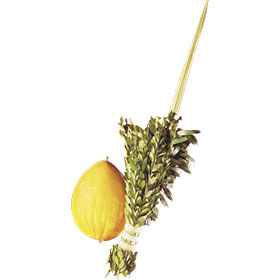 Israeli Etrog Set
Set comes complete with Lulav and 3 Haddassim, and 2 Arovos vacuum packed to ensure freshness.

Made In Israel
Product Description
What to look for when selecting the Ethrog.
There is the Mitzvah and then there is Hiddur Mitzvah which in essence translates to not just purchasing any Kosher Esrog set, but trying to purchase the most beautiful one.

What is beauty?
Beauty in an Etrog could mean many things; cleanliness, bumps and ridges, no stains, no scratches, no holes etc. The shape also plays a major roll in the Esrog, some look for a shape of a "migdal" or tower, wider on the bottom and narrower on top – almost to a point. Others prefer the shape of a heart, wider on top and smaller on bottom (because in the Midrash the Esrog is compared to the heart of a person).
Many Esrogim grow with a pitum (a wood like growth on the top of the esrog.) Most of the Yanover (from Calabria, Italy) grow without it, as it dries up during the first few weeks of growth. The esrog remains 100% kosher if it falls off while still growing on the tree. Some Yanover Esrogim do have a pitum, but they are more costly because of the rarity. Most of the Esrogim from Israel do have a pitum and the cost is the same for ones with or without.

(Our esrogim are rated by their beauty ranging from Chinuch to Special Mehudar - our best Esrog))))
Please order seperatly from any other purchase to ensure of shipment quality.
TO ENSURE THAT YOU RECIVE YOUR SET IN TIME FOR THE HOLIDAY, CHOOSE EXPRESS SHIPPING.