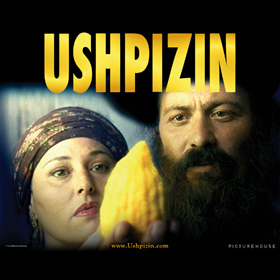 Ushpizin
This DVD will play on all DVD players , this is the USA version

Made In Israel

Orthodox
Product Description
Winner of the 2004 Best Actor award at the 2004 Israeli Film Academy for writer-star Shuli Rand, director Gidi Dar's film, Ushpizin (roughly translated to "holy guests"), is a revelatory - and humorous - look at the daily lives of ultra-Orthodox Jews learning, living, and loving in modern-day Israel.
The first film made by members of the ultra-Orthodox community in collaboration with secular filmmakers and aimed at general audiences, Ushpizin introduces Western viewers to organizations, rituals, and customs within the Orthodox community.
Disarmingly funny, the film also strtles in its universality, depicting members of the ultra-Orthodox community in scenes of ordinary living, drinking, smoking, dancing, arguing, reconciling, listening to popular music, and grappling with their faith. In its ultimately celebratory, fable-like quality, Ushpizin is a completely unique moviegoing experience: equal parts Isaac Bashevis Singer and It's a Wonderful Life.